Angie Martin, PT, MScPT, BSc, CGIMS, MAP, CAFCI
Owner – Physical Therapist
I graduated from the U of A in 2009 with my Masters of Science in Physical Therapy and my Bachelor of Science in Chemistry/Biological Sciences in 2005.
Since graduating and becoming a Registered Physical Therapist I have attained six additional certifications to improve my patient care:
1. University of Alberta Medical Acupuncture (MAP)
This treatment will have many benefits including decreasing stress, anxiety, pain and inflammation as well as promoting healing, improving sleep, balancing hormones and increasing energy levels. Medical Acupuncture effects multiple body systems and this holistic approach is a great adjunct to your Physical Therapy Treatment.
2. GunnIMS Practitioner (GCIMS)
A system for diagnosis and treatment of myofascial pain syndromes and chronic pain conditions that occur in muscles where there is no obvious sign of injury or inflammation. The goal of GunnIMS is to release muscle shortening, decrease the pull on the nerve and desensitize the neuromuscular system.
3. Women's Pelvic Health Therapist
To help Woman with urinary incontinence, urinary frequency/urgency, post natal recovery and pelvic/low back pain. With Pelvic Floor Therapy you will learn how to correctly contract and relax your pelvic floor muscles in order to treat and prevent these symptoms from occurring.
4. Shift Level 2 Concussion Assessment, Management and Treatment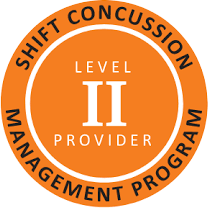 If you are dealing with post concussion symptoms, I will thoroughly assess your condition, help you with management strategies and provide you with the correct treatment & exercises to ensure you are able to return to play and life symptom free.
5. Spinal Manipulation
6. Ordering Diagnostic Imaging
I am authorized by the Alberta College of Physical Therapists to order x-rays, MRIs and ultrasounds.
Originally from Calgary, I grew up in Fort McMurray and I am now raising my two young kids here. I am excited to help them grow and experience all the activities and sports that Fort McMurray offers.  I have been working in Fort McMurray in Orthopedics since I graduated, and I am thrilled to be an owner of Accel Physical Therapy and to be able to continue to provide quality Physical Therapy services to my clients.
Treatments offered by Angie:
Physical Therapy
Manual Therapy
Pelvic Floor Treatment
Medical Acupuncture
Athletic Taping
Kinesio Taping
Concussion Management
Gunn IMS
Spinal Manipulation